USB Producer NG LOG
1-6

of

6
Document your copy process
Thanks to the USB Producer NG LOG series, which has a LOG File Manager, you can create a report of the copy process.
The copying process of every single stick is saved with all information of the process and can be exported as .txt file through the USB interface to your PC.

The log report gives you information about the used hardware as well as the process and the USB stick that was used.

The archived reports that document the process can be retrieved and analyzed later.
Alternatively, you can print the report, encode the copied USB sticks and use it for quality assurance.

Furthermore, the NG LOG variant offers the possibility to program a write protection to the USB sticks.
To use this feature, you will need the appropriate USB sticks from ADR. We produce these USB sticks individually for our customers.
This write protection does not allow data to be added to the stick. It is not possible to delete or format the data carrier.

Further special features of the NG LOG are the "Double Source Comparison" function as well as the "Burn-in" test function to check the quality of your data.
Featured products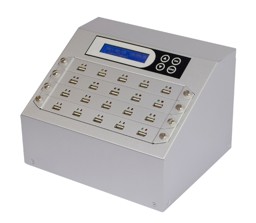 Next Generation USB Producer with 19 targets.
Please do not hesitate to contact us:
ADR Europe /
Headquarter - Germany


+49-6222-9388-0

or write us via e-mail:
info@adr-ag.com


ADR USA / North America
Toll free

+1 (920) 757 3188

or write us via e-mail:
info@adr-ag.com

ADR UK /
Newark

+44 (0) 1636-893036

or write us via e-mail:
info@adr-ag.com


ADR Ireland

+353 (1) 231 2805

or write us via e-mail:
info@adr-ag.com

ADR Australia /
Adelaide

+61 (0) 40 88 11 592

or write us via e-mail:
info@adr-ag.com

ADR South East Asia
/Singapore

+65-9863 4532

or write us via e-mail:
info@adr-ag.com

ADR Malta

+356 (0) 2034-1623

or write us via e-mail:

info@adr-ag.com