Now new with extra large racks for external hard disk enclosures!
About the HD-Producer MT SSD Drive Copier Highspeed from ADR:
From now on you can copy your SATA/IDE/SSD/mSATA and many other HDDs easily and fast.
The MT Series SSD Drive Copier gives you the possibility to make 7, 15 or 23 identical copies of your Master HDD.
The 7 Target version is also available with optional PC Connection.
The copy process of the hard disk copier is still started by the device itself.
Speed of the SSD Drive Copier Highspeed:
Due to the high data transfer rate of approx. 300MB per second you can copy up to 18GB in one minute.
Monitoring Tool:
With the Monitoring Tool you can follow the copying process on the screen of your PC.

You don't have to call up information on the small display but can comfortably view everything on the monitor.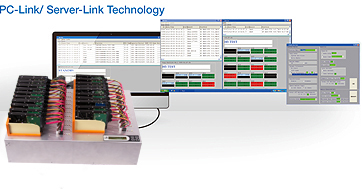 Delete function :

In order to completely erase data from written hard drives, the hard drive copier has various erase functions (Quick Erase, Full Erase, DoD Erase and Secure Erase).

In many cases, our duplicators are used exclusively for the secure deletion of data.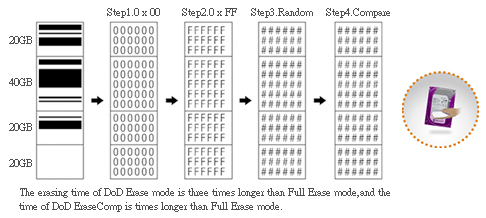 Copy function:
The SSD Drive Duplicator High Speed over different copy modes like "Only Data", "All Partition" and "Whole HD".
There is the right application for every desired copying process.
Firmware updates can be easily updated via a front USB port on the SSD Drive Copier.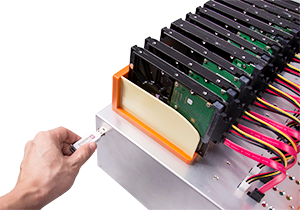 Operation:
After you have positioned the master hard disk in the first slot, place the empty hard disks in the other slots and press "Copy" or "Copy & Compare
After a very short time you can remove your duplicated hard drives.
With the ADR HD Producer MT SSD Drive Copier, you can duplicate your hard drives quickly and cost-effectively.
For IDE, mSATA, microSATA, eSATA, iVDR and other hard drives, the optional adapters must be purchased additionally.
2.5", 3.5" SATA and SSD can be processed without adapters.
Log Report
With the Log Report function of the SSD Drive Copier, the system stores information about the copying process.
You can export this information as a .txt file and save it on your PC or print it out.
This allows you to track which HDDs were copied when and how.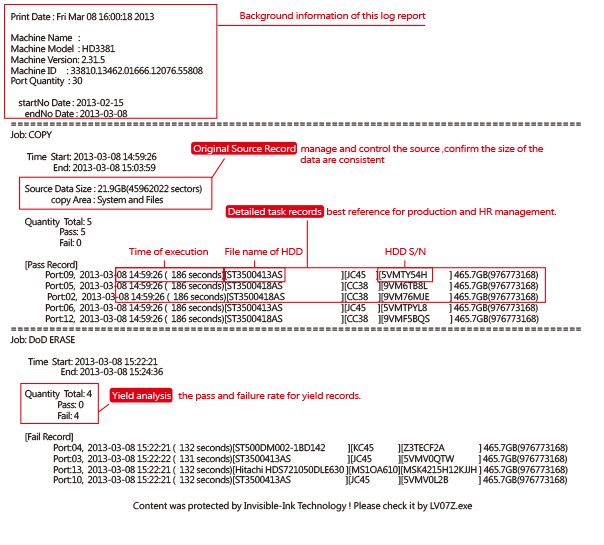 Specifications:
Model

ADR1-7HDMT-HS

ADR1-15HDMT-HS

ADR1-23HDMT-HS

Targets

7

15

23

HDD types

3,5" SATA, 2,5"SATA,
SATA SSD, mSATA, microSATA,eSATA,
iVDR, IDE (with Adapter)

Supported formats

All formats

Copy Modes


Quick copy

All partitions

Whole HDD

Quick copy Format

FAT16/FAT32, NTFS, Linux (ext2/ext3/ ext4) etc.

Display

2*20 Monochrome LCD Display

LED Display

Yellow (power), Green (pass), Red (Fail)

Control Button

4 push Buttons (forward, backward, OK, ESC

Power supply

200W

adjustable voltage 100V-240V, 50/60Hz

Security

CE, FCC, Rohs

Dimensions

24,6*24,5*20,6 cm

Weight

6,5 kg

Accessories (optional)

diverse Adapter
The ADR SSD Drive Copiers Highspeed are available in different versions:
The systems always have 1 master slot.
For the target slots there are models with 7, 15, 23 targets.
For every need there is the right model.
Just give us a call. We would be happy to arrange a joint demo appointment
or evaluate the possibility of a test run of one of our systems.
Telephone consultation in Germany:
ADR Headquarters - Heidelberg
Tel : 0049-(0)6222-9388-0
Fax: 0049-(0)6222-9388-50
ADR Nord - Hamburg
Tel : 0049-(0)40-7001-2094
ADR West - Cologne area

Tel : 0049-(0)2645-7299000
Telephone advice in Austria:
Tel : 0043-(0)732-773142-0
Telephone advice in Switzerland:
Tel : 0041-(0) 44 500 2230

Or by e-mail to