LX900 label printer, label printer from Primera



Fast production of brilliant colour labels

LX900e is Primera's newest, fastest and most efficient color label printer.
It combines high-resolution printing with the latest inkjet technology to produce brilliant, full-color labels for a wide variety of product packaging. The single ink cartridges mean that only the cartridges that have been used up need to be replaced. This saves time and money with every single print.
Your labels can contain colour photos, illustrations, graphics and text in combination with barcodes on pressure sensitive labels. Even high-resolution 2D barcodes can be created with the LX900e. No minimum print run is required - print exactly the amount you need.
Results in professional print quality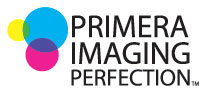 The latest inkjet technology has been integrated into LX900e. In addition, Primera has also improved the quality
of the imprint has been perfected. Through the so-called Primera Imaging Perfection™ printing technology, the following appear
Text elements, graphics and illustrations pin sharp.
The droplet size for colour printing is only 4 pl, for black printing 5.5 pl - this corresponds to the smallest droplet size for industrial colour label printers to date.
The resolution is up to 4,800 dpi, other printers achieve just 1,200 dpi.
The fastest label printer in its class!
In draft mode, the LX900e prints 114.3 mm of label area per second. With the new device, companies can significantly accelerate their production cycle. If your production volume increases, simply add multiple LX900e models from a PC. Whether you're producing single labels or thousands of copies, you'll be surprised how quickly LX900e prints them.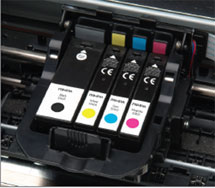 Economic commissioning and maintenance
LX900e has separate ink tanks for cyan, magenta, yellow and black. This means that only the ink that is actually used needs to be replaced. This effectively reduces the cost of each print. You won't waste ink on designs that use more of some colors than others, and you'll also help the environment.
The built-in print head can be replaced quickly, easily and without tools when necessary.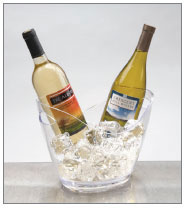 Large selection of materials
LX900e prints on a wide variety of label and tag materials suitable for inkjet printing. These include Primera's white or transparent TuffCoat Extreme™ polyester labels and white BOPP label stock. These materials are highly water repellent, scratch, smudge, and tear resistant and are specially formulated for the inks used in Primera's LX label printers.
Water-repellent paper labels are available with a high-gloss, matte or satin finish and in dozens of sizes and shapes in stock. Custom sizes are available upon request available.

Versatile application possibilities
With LX900e, you can produce high quality, professional-quality labels for all products that require short runs. It is equally suitable for a variety of other applications, such as:
LX900 label printer, label printer from Primera
Preprints for larger print runs

Coloured packaging labels with bar code

Advertising campaigns

Label production as a service

Labels for private products and goods

Promotions
Best industrial label printer
High print speed, professional quality, fair acquisition costs and low unit costs are the hallmarks of Primera's LX900e and make it one of the best label printers currently available on the market. The LX900e enables
Print labels for the following products with the LX900e:
LX900e Color Label Printer Technical Specifications
Printing method: Ink jet; enhanced by Primera's Imaging Perfection Technology

Print resolution: up to 4800 dpi
Print speed: in Draft Mode: 114.3 mm/s in Normal Mode: 45.7 mm/s in High Quality Mode: 20.3 mm/s
Print head: semi-permanent, user replaceable
Ink cartridges: Single tanks for cyan, magenta, yellow and black
Inks: 16.7 million
Color correction: Z-Color™ Color correction software
Max. print width: 203 mm
label width: 206 mm
Label types: Labels and tags/tickets on rolls
Media scanning: Movable light sensor for contour-cut labels; reflective sensor for marking strips; continuous printing possible
supply roll: 152 mm max. diameter on 76 mm core
Ink level indicator: Calculation of the number of labels still to be printed based on the ink consumption for the current print layout (patent pending)
Control displays: power supply, pause, ink level
operator keys: pause, feed, discharge
Operating systems: Windows XP®, Vista® and Windows 7 Mac OS X v10.5 or higher (coming soon)
Interface: USB 2.0; External control interface
Label design software: NiceLabel® SE Primera Edition included in the package. Most other known label design software can be used as well.
Device voltage: 12 V DC, 5 A
Power supply: 100-240 V AC, 50/60 Hz, 60 Watt
Approvals: UL, UL-C, CE, FCC Class B
Weight: 16,6 kg
Dimensions: 438 mm W x 231 mm H x 438 mm D
Simple production of brilliant, high-quality and cost-effective product labels.

Baked goods
Candles
Confectionery and pralines
Detergents
Chemicals
coffee and tea
Cosmetic products
Desserts, cakes and tarts
Gifts
Delicacies
honey
Jams, jellies and preserves
Juices and cider
Nuts
Essential oils and olive oils
Organic food
Personal care products
pet food
Natural products
Sauces and dressings
Sticker
Soaps and shampoo bottles
Spices and herbs
Syrup
Vitamin preparations and food supplements
Water bottles
Wine, beer and spirits