ADR Hurricane CD/DVD-Burning Robot
with a 375 Disc Bin and 1 CD/DVD-Burner (Standalone)

About the Device

For small to medium productions of CD/DVDs, we recommend our CD/DVD Burning Robot Hurricane with 1 CD/DVD combo burner

.

With its patented industrial robotics (made in Germany) this device works very reliably

Furthermore, the

Hurricane

CD/

DVD

copier is

subsequently

expandable with

up to 10

burners and

a

600

disc capacity

bin.




This way

you can protect

your investment and

remain

flexible for the future.

Handling

The Hurricane Burning Robot is very user-friendly and can be used by anyone after a quick 5 minute briefing.
The Standalone version has an LCD Display and is controlled with merely 2 buttons which makes working with it as simple as with a normal paper copier.

The standalone version only requires power to work. You don't need a PC for managing the system which makes it possible to achieve a high efficiency rate through minimal effort.

Works completely "standalone" thanks to internal ADR-RISK processor

User friendly LCD-Display with 2 buttons

Upgradable with up to 10 drives

Can perform the following functions:

Copy CD/DVD-ROM to CD/DVD Image File.

Copy CD/DVD Image File to CD/DVD Burning Robots




(supports CD/DVD Image Files which have been created on a CD/DVD Premastering application).

Batch Copy Mode

Minimal Service Need - No Maintenance needed.

Professional Audio, Video and Data Duplication.

Verification through "low level compare" of the Master and CD-copy verifies correct copying

There are several printers which are integratable with this device. You can choose in between 3 different CD/DVD printing methods. InkJet, Thermal and Thermal Re-transfer. The printer has to be ordered seperately.

ADR systems are designed to easily handle working 24 hours at once. The sturdy mechanics and high-class processing make the ADR CD/DVD burning roboter the most trustworthy industrial machines in the area of CD/DVD duplication and production world wide.

Judge for yourself:


Gladly we will mention you a reference customer near you or demonstrate one of our devices to you at your wish.

Brochure

ADR-CD/ DVD Duplicators can be upgraded gradually into a ADR Tornado CD/DVD Copier with 10 reading drives and a 600 capacity magazine.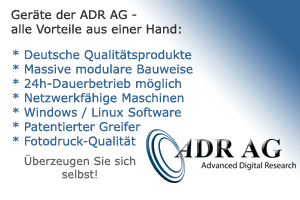 Technical Details

10 Ultra-DMA SATA channels onboard for DVD-ROM reading device, SATA harddrive and SATA DVD burner with up to 16x writing speed.

32 MB Buffer onboard for max. security.

Max. compatibility for all burners.

Stable and sturdy construction enables long life expectancy.

BIOS Upgrade purchasable.

Optional USB-connection available (for managing the harddisk)

1 CD/DVD-combo burner (SATA, CD-R/DVD-R 40x/16x and DL).

375 Disc Bin

Supports the following formats:

DVD-5, DVD-Video, DVD-ROM, DVD-Audio, DVD-R, DVD-RW, DVD+R, DVD+RW, Dual Layer, CD-ROM mode 1,
CD-ROM mode 2, CD-ROM/XA (mode 2 form 1 & form 2), CD-DA (Audio CD), MixedMode CD, Video CD, CD-I, Karaoke CD, Photo CD
(single session & multisession), HFS, ISO 9660, CD-Bridge, CD-Extra, CD+G, ISRC, multisession, name-card CD, 21 min CD, 63 min CD,
74min CD, 80min CD, CD-R und CD-RW
You will receive a 5-year warranty by the manufacturer on the robotics of the CD/DVD duplicator!