ADR Hurricane CD/DVD/BD copy robot
incl. 250 capacity magazine and 1 CD/DVD/BD burning drive
also incl. HP Inkjet Printer HP Excellent IV
About the device
The ADR Hurricane copy robots are highly recommended for fast paced productions of CD-R and DVD-R media. For the best print results possibe we recommend our fully automated CD/DVD/BD duplicator Hurricane with a CD/DVD/BD burner which includes a 250 capacity magazine and a HP Inkjet Printer HP Excellent IV. With its patented industrial robotics, this device works highly reliable and comes is often used for on-demand productions.
Furthermore the Hurricane CD/DVD/BD duplicator is subsequently expandable with up to 8 burners and a 600 capacity magazine and it already supports 8 cm CDs and DVDs, as well as business card formats. In addition to being able to upgrade the internal capacity you can have our ADR duplicators modified to Blu-ray by us. By doing so you can protect your investment and remain flexible for the future.
Sustainability for ADR means that you can flexibly upgrade your system with new printing possibilities or recording drives. Only by doing this your investvion is guaranteed to be long term economic. Some of our customers have been working with the same ADR robot for 10 years. This does not only protect your investment, but also the environment.

Operating the Hurricane DVD Duplicator

Whether as a single user, network or standalone device, never has creating CD/DVD/BD from your network been this easy.
If you combine the ADR Hurricane CD/DVD/BD Duplicator with the Excellent IV you have a high-quality publishing system which generates the best possible results worldwide. You will be delighted with the photorealistic print results.
This CD copier in PC-controlled version is supplied via eSATA and USB on the data. The purchase price includes the standalone software PADUS DiscJuggler Pro. A network software is available for a surcharge.
By doing this you can control the CD/DVD/BD copy of any number of workstations from your network.

With the included Web interface, you can directly send burning jobs from any client PC to the device without having to install a complicated software. Creating an image, add labels, select number of producing media. Ready!

Features of the Hurricane I
Powered by

award winning

software

PADUS DiscJuggler

(

single user

or

network version

available)

or

optional

POINT

Publisher

software.

(Alternative solution under LINUX or MAC environment possible)
Networkable

LAN/

WAN

with an unlimited

number of

clients and multiple

focal

stations

.
Direct

digital

-to-

digital

copying of a disc

with "on

-the-fly," or

on the

hard disk.
Can

simultaneously

write

different copies

on

all

parallel

CD

-R.
Can

simultaneously

control multiple

CD

autoloader

(

robots).
Expandable

with

to up to 8

Drives
Can

perform the following functions

:
- Copy CD-ROM CD Image File
- Copy CD Image File to CD Recorder (supports CD image files that were created on a CD pre-mastering application)
- Can process output of for example based Easy CD ™ or other ASPI CD pre-mastering application to multiple
- CD-R drives
- Batch Copy Mode
- Customise CD/DVDs
This bundle

comes complete

including

the current

HP Inkjet Printer HP Excellent IV

.
Professional Audio Duplication.
1 CD/DVD/BD-Combo burner (SATA, CD-R/DVD-R 16x/40x and DL)
Verification through a

"low level

compare"

of the

master and

CD

-

Copy to check

if the copy is correct
Sophisticated

Audio

Resynchronization

reading mode

for high reliability

when copying a

digital

audio CD




(CD-

DA /

COMPACT DISC

)

in professional applications

.
"On-the

-fly"

to correct

the

Error

sectors

.
Intuitive and

user friendly interface

for beginners and experts

(Windows or

Linux)

ADR

DVD

duplicators

are designed easily withstand

24 hour work shifts

.

The robust

mechanics and

quality workmanship

make the

ADR

CD/

DVD/BD

duplicator

part of the most reliable

industrial machines

in the CD/

DVD/BD Duplication

world

.

Judge for yourself:
We are happy to give you a reference customers in your neighborhood or cause you the equipment on request ago.
​
Data Sheet

Brochure

Video

ADR-CD/ DVD Duplicators can be upgraded gradually into a ADR Tornado CD/DVD Copier with 10 reading drives and a 600 capacity magazine.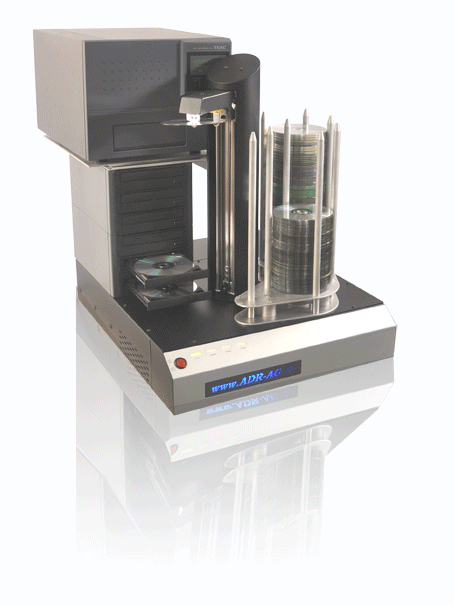 Technical Details

Max. compatbility for all burners.

Stable and sturdy construktion ensured long lifespan of the device.

BIOS Upgrade available

Optional USB-connector available (for managing the harddisk)

1 CD/DVD/BD combo burner (SATA, CD-R/DVD-R 16x/40x and DL).
Includes

HP Inkjet Printer HP Excellent IV

250 Disc magazine

8cm CD/DVD Adapter (optional)

Supports the following formats:

DVD-5, DVD-Video, DVD-ROM, DVD-Audio, DVD-R, DVD-RW, DVD+R, DVD+RW, Dual Layer, CD-ROM mode 1, CD-ROM mode 2, CD-ROM/XA (mode 2 form 1 & form 2), CD-DA (Audio CD), MixedMode CD, Video CD, CD-I, Karaoke CD, Photo CD (single session & multisession), HFS, ISO 9660, CD-Bridge, CD-Extra, CD+G, ISRC, multisession, name-card CD, 21 min CD, 63 min CD, 74min CD, 80min CD, CD-R und CD-RW
You will receive by the manufacturer a 5-year warranty on the robotics of the CD/DVD duplicator!
You will also receive a lifetime of service and support on ADR equipment.
End of service? End of Support? Not with us.

This is a bundle offer at a special price.
Available only while stocks last!
We are delighted to present the functioning of ADR robots in our showroom in Wiesloch or one of our partners.
Contact us and we will arrange a demonstration date.