FX1200e Digital Finisher

Digital label processing - simply, quickly and cost effectively!

To date machines were expensive for the further processing of manufactured in roll digital printing labels, complicated and not exactly user-friendly.

Primera FX1200e Digital Finisher sets new standards.
The FX1200e was designed based on the requirements of manufacturing and converting company in a professional finishing system in the industry format for an all-digital label production and processing.
With the FX1200e you get laminated, cut, weeded and wound rolls of labels in a single operation. Due to the independent processing of FX1200e with usual narrow web printing systems is compatible.

Operating via Touch-Screen

The operation of the FX1200e via an integrated touch screen. The intuitive menu system makes it quick and easy to set up jobs and configure. The order parameter can be thanks to the built-in memory accessed at any time and adjusted again.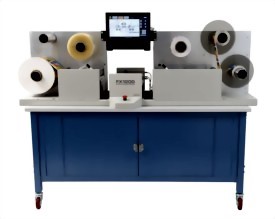 Instead of punching forms of FX1200e digitally controlled uses carbide blades. This eliminates expensive production costs and waiting times for punching. With the FX1200e you are flexible, independent and save time and money in production.

The Primera patent pending QuadraCut ™ technology enables throughput speeds of up to 6 m / min.

QuadraCut intersects with up to four blades on the web. Characterized the volume flow rate is drastically increased as compared to systems with only one finishing cutting blade.

With the FX1200e cut also pressure-sensitive materials, such as matte and glossy paper, polyester, vinyl, polypropylene, or BOPP.

Digital Solution

The FX1200e is the ideal addition to small-format label printers, such as the CX1200e Digital roll printer (color laser technology) from Primera.

With the Primera to get digital solutions for both the label printing as well as for further processing - all from one source!