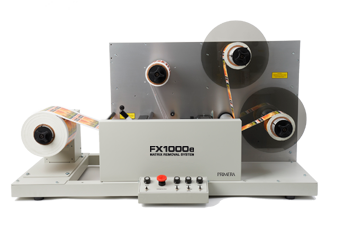 After some time the Primera MX-12 matrix remover has in the program, there is now a new system due to increased demand - the Primera FX1000E
The FX1000E is the ideal complement to CX1000e Primera Color Label Printer.
Primera's FX1000E Matrix Removal System is the fast and easy way to remove the waste (Label Matrix) from your printed rolls and pre-cut labels. In addition, the blades cut the labels on the entire width and divides the whole wide at the request into several smaller label rolls, which you can then use in your production.
A perfect result allows the loader combined with a strong roller system, with powerful engines. A second option allows the winding mandrel in both directions. The control board has to regulate individual torque control for each winder, and a master control the speed.
The machine detects breaks or the end of the roll and stops automatically.
Customize roles are tightly wound and ready for use on label dispensers and applicators. The FX1000E can also be used for easy rewinding. Optional accessories such as labels counter, labeling printing and others are in development, which make the FX1000E to a long-term investment and you can make life easier again.
This link will direct you to a video about the Primera FX1000e:
http://www.youtube.com/watch?feature=player_embedded&v=lOw_XO-i46A&gl=DE