Falcon Media FTI Blu-Ray discs are fully printable.
The, through your inject printer;
Printable Blu Ray blank surface ensures a print result with depth of field.
The media of Falcon Media are therefore used internationally in the professional Blu-Ray production.
These media are known for their high quality and compatibility with almost all popular Blu-ray players.
In addition, they have an extremely long life and optimum pressure.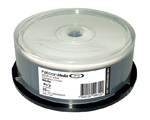 Blu-Ray 25 GB inkjet white 25er Cakebox
Please do not hesitate to contact us:
ADR Europe /
Headquarter - Germany


+49-6222-9388-0

or write us via e-mail:
info@adr-ag.com


ADR USA / North America
Toll free

+1 (920) 757 3188

or write us via e-mail:
info@adr-ag.com

ADR UK /
Newark

+44 (0) 1636-893036

or write us via e-mail:
info@adr-ag.com


ADR Ireland

+353 (1) 231 2805

or write us via e-mail:
info@adr-ag.com

ADR Australia /
Adelaide

+61 (0) 40 88 11 592

or write us via e-mail:
info@adr-ag.com

ADR South East Asia
/Singapore

+65-9863 4532

or write us via e-mail:
info@adr-ag.com

ADR Malta

+356 (0) 2034-1623

or write us via e-mail:

info@adr-ag.com