Falcon Media FTI DVD media are fully printable with your thermal retransfer printer.
The printable DVD blank surface ensures a print result with depth of field.
The media of Falcon Media are therefore used internationally in professional DVD production.
These media are known for their high quality and compatibility with almost all popular DVD players.
In addition, they have an extremely long life and optimum pressure.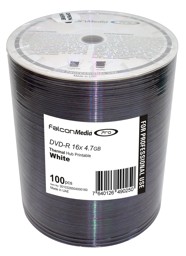 full surface printable up to 23 mm inner ring, 100er bulk, Falcon Media FTI
Please do not hesitate to contact us:
ADR Europe /
Headquarter - Germany


+49-6222-9388-0

or write us via e-mail:
info@adr-ag.com


ADR USA / North America
Toll free

+1 (920) 757 3188

or write us via e-mail:
info@adr-ag.com

ADR UK /
Newark

+44 (0) 1636-893036

or write us via e-mail:
info@adr-ag.com


ADR Ireland

+353 (1) 231 2805

or write us via e-mail:
info@adr-ag.com

ADR Australia /
Adelaide

+61 (0) 40 88 11 592

or write us via e-mail:
info@adr-ag.com

ADR South East Asia
/Singapore

+65-9863 4532

or write us via e-mail:
info@adr-ag.com

ADR Malta

+356 (0) 2034-1623

or write us via e-mail:

info@adr-ag.com