ADR HD-Eraser T400P - compact extinguishing system

About the T400P ADR HD eraser:
The ADR HD eraser T400P is the new lightweight in the HD eraser series.
The system is very compact and can therefore be used anywhere.

The T400P hard disk eraser allows you to erase hard disks quickly and easily.
⊙ 5 different erase modes: Quick Erase,Full Erase,DoD Erase,
Secure Erase,7 Full Erase ⊙ With compact thermal printer to print reports immediately after erasing each hard drive. ⊙ Each report of a deleted hard disk can be exported directly to a USB stick. It is possible to trace the type of process, the duration of the process, the serial numbers of the process. ⊙ Each port has its own fastkey so that each port can work asynchronously. So all ports work independently from each other. ⊙

The system can also be used as a hard disk copier with Compare function.



How do you dispose of your hard disks? Is your process safe?
The T400P reduces the risk of losing your data. You delete your data in the house irrevocably.

Print your deletion report
The thermal printer automatically prints a deletion report for each deleted hard disk. So you can prove that the hard disks were deleted according to internal security standards.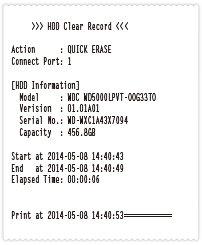 Save log report to USB

You can save your reports on a USB stick and access the data later
6,2
Technical Specification:
Model

T400P

Targets

4-port asynchron erase, 1 to 3 copy

Buffer Memory

128MB

Speed

7.2 GB/Min (120MB/Sek)

Operation type

Standalone

General Specifications

Languages

Chinese / English

Display

black-white LCD Display

LED Status

LED (red/green) on every port


Control buttons

5 buttons: ▲(up), ▼(down), OK (enter),
ESC (exit), GO (continue)

Erase modes


Quick Erase, Full Erase, DoD Erase, Secure Erase,7 Full Erase

Functions

Copy functions


Quick Copy (System and Files), All Partitions, Whole HDD, Percentage

Compare

Ja, bit-by-bit

OS

Quick Copy: FAT16/32/64, NTFS, Linux(Ext2/3/4),Mac(HFS/HFS+/HFSX)

Copy format

Entire range; all formats

Compatibility

Interface

SATA 1.0/2.0/3.0 support or IDE, eSATA, CF, SD with adapter.

Support MBR, GPT

yes


Voltage

Auto power control

Power consumption: 60W

Power supply: 100V-240V, 50/60Hz.

Hardware Specifications

Dimensions

19.5 x 9.5 x 3 cm

Weight

700 g

Temperature

| | |
| --- | --- |
| Operation: 5°C ~ 45°C | Storage: -20°C ~ 85°C |

Humidity

| | |
| --- | --- |
| Operation: 20% ~ 80% | Storage: 5% ~ 95% |

Certificates

FCC, CE, RoHS
Please do not hesitate to contact us