Service for IMT devices now also with us.
If you, as a customer of the now liquidated company IMT, are looking for a new service partner, then you have come to the right place. You will receive the same services from us as before from the IMT service such as maintenance and servicing and we can also provide you with appropriate replacement devices if necessary.

When it comes to repair and service of your IMT equipment, you are in good hands with us. We are able to offer you the same range of services as IMT Service. The service for your IMT equipment is carried out professionally by our expert and experienced service staff and is in no way inferior to the services of the former IMT service. The spare parts supply for your devices is ensured by us.

And if one of your IMT devices should not be enough for the best service, we have a suitable replacement solution for former IMT customers. In case of a necessary device replacement, as Epson discontinued the production of the marathon printer and therefore is no longer available as a replacement device, you will receive an offer for an ADR autoloader in combination with an Epson AP 100 which you can print very favorably with the same production capacity , And at a fraction of the price of your old IMT device.

Convince yourself and get in contact with us. Our friendly technical staff will be pleased to advise you on all questions regarding the IMT service and the appropriate alternative solutions. We are also happy to provide you some samples for review.

With us as your new partner for the IMT service, you ensure that your equipment continues to function flawlessly and your productivity is maintained. Quickly available replacement solutions give you additional security.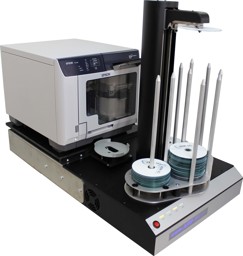 Professional CD/DVD Autoprinter for CD Production runs up to 600 discs
Please do not hesitate to contact us:
ADR Europe /
Headquarter - Germany


+49-6222-9388-0

or write us via e-mail:
info@adr-ag.com


ADR USA / North America
Toll free

+1 (920) 757 3188

or write us via e-mail:
info@adr-ag.com

ADR UK /
Newark

+44 (0) 1636-893036

or write us via e-mail:
info@adr-ag.com


ADR Ireland

+353 (1) 231 2805

or write us via e-mail:
info@adr-ag.com

ADR Australia /
Adelaide

+61 (0) 40 88 11 592

or write us via e-mail:
info@adr-ag.com

ADR South East Asia
/Singapore

+65-9863 4532

or write us via e-mail:
info@adr-ag.com

ADR Malta

+356 (0) 2034-1623

or write us via e-mail:

info@adr-ag.com